THE DEVILS – 'Sin, You Sinners!'
Arriva da Napoli la new sensation di casa Voodoo Rhythm, mitica label freak hard blues svizzera marchio di qualità in fatto di garage. L'esordio dei The Devils 'Sin, You Sinners!' è un concentrato di hard blues, rock n' roll indiavolato e garage primitivo.
Guarda il video di 'Coitus Interruptus', primo singolo estratto dall'esordio 'Sin, You Sinners' dei The Devils' –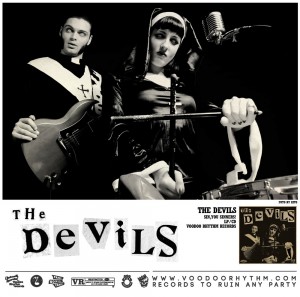 The DEVILS – 'Sin, You Sinners!'
Voodoo Rhythm Records
Tracklist:
1. Puppy Nun / 2. Coitus Interruptus (From a Priest) / 3. Magic Sam / 4. Drunk Town
5. Don't Look in the Basement / 6. Misery / 7. Azazel / 8. Sin, you Sinners!
9. Hell's Gate / 10. Shaking Satan's Balls
Il monicker The Devils è stato scelto come tributo alla mitica pellicola 'The Devils' (1971) di Ken Russel (con Oliver Reed e Vanessa Redgrave) e lo stile del duo è ispirato dai ripetuti ascolti blues-punk-garage di The Cramps, Hound Dog Taylor, The Gories, Jon Spencer, Fugazi, Hasil Adkins e The Oblivians.
La storia dei The Devils è iniziata meno di due anni fa in quel di Napoli, Campania, dall'incontro tra la batterista Erica Toraldo e del chitarrista Gianni Vessella. Solo pochi mesi di prove e i due ragazzi hanno iniziato a macinare date su date in Italia e Francia fino all'incontro con Jim Diamond dei The Dirtbombs, produttore del loro esordio, e Reverend Beat-Man della Voodoo Rhythm Records, marchio di eccellenza garage blues e casa madre dei The Devils.
Il sound dei The Devils è semplice e efficace come un incendio con il suo muro di chitarre fuzz e l'incedere blues minimal delle voci di Erica e Gianni. Ricordate che qui non c'entra nulla Bob Dylan, siamo nei territori dell'ironia oscura di Texas Chainsaw Massacre e Evil Dead con i due The Devils vestiti come il Predicatore dei fumetti di Garth Ennis e la Killer Nun dell'omonimo film con Anita Ekberg.
I The Devils sono pronti a portare il diabolico verbo del garage blues ovunque e a bruciare i palchi di mezza Europa, mentre il loro esordio è appena uscito per Voodoo Rhythm Records.
LINE-UP
Erica Toraldo : vocals and drums
Gianni Vessella : vocals and guitar  
the DEVILS info:
. https://www.facebook.com/The-Devils-906332382772094/?fref=ts
. http://voodoorhythm.com/127-artists/the-devils.html
. http://www.thedevils.info/
---
Dal 24 giugno 2016
NEI NEGOZI DI DISCHI E DIGITAL STORE