The James Hunter Six – 'Hold On!'

Il 5 Febbraio è in uscita 'Hold On!, primo lavoro per Daptone records di James Hunter e quarto della sua carriera. Siamo nei lidi del R&B, delle big band, del rock minimale e del soul. 
'Hold On!' è il quarto disco di James Hunter, ma il primo per Daptone records a nome The James Hunter Six. Prodotto dal mitico Bosco Mann (Gabriel Roth) presso i Penrose Recorders (Daptone West) vicino alla sua casa di Riverside, California, 'Hold On!' è il ritratto di un artista all'apice della sua carriera e creatività. James Hunter è un protagonista della scena soul Americana, con un curriculum che parla di nomination ai Grammy, album e singoli in classifica e collaborazioni con artisti del livello di Van Morrison. James Hunter è un riconosciuto mago del Rhythm and Blues, un comandante da seguire sia sul palco che in studio. 'Hold On!' comunque è qualcosa di differente da quanto fatto in passato, non un altro lavoro da Curriculum ma l'espressione della carriera di un grande artista.
Brani catchy come "(Baby) Hold On," "If That Don't Tell You," e "Stranded" portano energia e buonumore, mostrano come si scrive un album di perfetto r&b e come si crea un groove contagioso capace di far muovere il piede a tutti gli ascoltatori.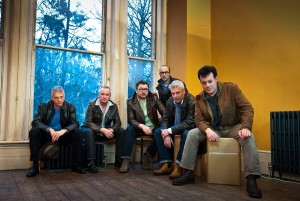 In 'Hold On!' c'è tanta rumba, bolero, bossanova e rock minimale, ogni canzone ha più swing della precedente: "This Is Where We Came In", "Something's Calling", "A Truer Heart", "Light of My Life", "In The Dark".
Qui siamo nel campo da gioco dei migliori, un torneo in cui I The James Hunter Six si ritrovano a giocare al fianco dei grandi del soul, del r&b e dello swing. La voce di James Hunter evoca Ray Charles e Sam Cooke e sicuramente possiamo parlare di James Hunter Six come di una delle più interessanti soprese targate Daptone per il 2016.
'Hold On!' Tracklist:
If That Don't Tell You
This Is Where We Come In
(Baby) Hold On
Something's Calling
A Truer Heart
Free Your Mind (While You Still Got Time)
Light Of My Life
Stranded
Satchel Foot
In The Dark 
James Hunter info:
Website: www.jameshuntermusic.com
Facebook: http://on.fb.me/1WFlInz
Twitter: @jameshuntersix
Instagram: @jameshuntersix