391 VOL. 6 VENETO – Voyage Through the Deep 80s Underground in Italy
Disponibile su doppio cd dal 30 novembre per Spittle/Goodfellas.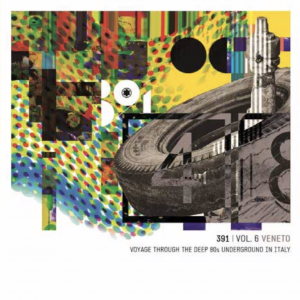 Sesta tappa del "viaggio nel profondo underground italiano": un anno e mezzo di lavoro tra ricerche, nastri, fruscii e distorsioni nel tentativo di descrivere cosa successe in Veneto negli anni 80. Come per le altre raccolte della serie 391, non un "best of" ma un contenitore eterogeneo in cui, a gruppi dimenticati o mai emersi allora, si affiancano inediti di band di culto come Death in Venice, Degada Saf, Frigidaire Tango, Plasticost, Ruins, Wax Heroes: pezzi essenziali della storia della new wave e del post punk italiano.
"A metà degli anni settanta, mentre il ciclone punk stava resettando culturalmente il sistema su cui si reggeva il music business, prendeva forma una nuova coscienza mu- sicale. C'era bisogno di un cambiamento, di recuperare il senso che la musica rock esprimeva nella sua identità primitiva e istantaneamente proiettarla nel futuro risve- gliando le anime di chi pensava che la musica fosse cosa per pochi eletti.
Il post punk, o in senso più allargato la new wave, fu una ri-evoluzione della scena underground dentro la quale si trovò la nostra generazione, una specie di rinascita intellettuale, sembrava fosse la musica a creare un nuovo momento sociale e non il con- trario come di solito avviene.
Questa compilation contiene 42 brani inediti di band semisconosciute strappati al destino di rimanere relegati per sempre in qualche polveroso cassetto, orfani da trent'anni anni di un pubblico che potesse apprezzarne la loro genuinità, scevri da ogni intento commerciale, un manifesto che rappresenta quello che fu un continuo dilagare di creatività, una rivoluzione silente di musica e stile della quale, grazie al cielo, erava- mo a cavallo"
– Carlo Casale, Frigidaire Tango
391 Vol. 6 Veneto
Voyage Though the Deep 80s Underground in Italy
Doppio cd disponibile dal 30 novembre per Spittle/Goodfellas
Tracklist:
. CD 1
1  PYRAMIDS (CHIARANO – TV): A WAY OUT (1980) 

2  EVABRAUN (VERONA): LA BATTAGLIA DI SAN ROMANO (1981) 

3  BLUE VELVET (MESTRE, VENEZIA): CATCHING THE SHADOWS (1981) 

4  S.P.R.A.Y. (BASSANO DEL GRAPPA – VI): BEYOND ALL BELIEF (1981) 

5  VCO (MESTRE, VENEZIA): RADIOMAD (1981) 

6  PLASTIC BAGS (VENEZIA): SEGNALE ORARIO (1981) 

7  HOMEWORK TAPE PRODUCTION (VENEZIA): BALIE (1982) 

8  ENDLESS NOSTALGIA (ASPARETTO, CEREA – VR): 
WHITE LOVE IN A WHITE ROOM (1982) 

9  RADAR (VERONA): UNA SPLENDIDA EMICRANIA (1982) 

10  HUNT'S UP (MESTRE, VENEZIA): BASS ONE (1982) 

11  STEVE ELBOW & TWIST 92 (BASSANO DEL GRAPPA – VI): 
THE SHADOW OF MY BRAIN (1982) 

12  NEW DESIGN (BASSANO DEL GRAPPA – VI): THE TROLL (1982) 

13  RUINS (MESTRE, VENEZIA): HOT LEG (1983) 

14  QFWFQ (PADOVA): ME_MORIA (1983) 

15  BOBBY WATSON (VICENZA): THE PRESIDENT WISHES A GOOD TIME (1983) 

16  PLASTIC FLOWERS (VENEZIA): FRENCH KISS (1983) 

17  CRUEL BOLERO (VENEZIA): TAKE THE CHANCE (1983) 

18  DEATH IN VENICE (VENEZIA): BLACK FLOWERS OF DANCE (1983) 

19  DOMINO NOIR (MAROSTICA – VI): SWORD FOR MY CONFLICTS (LIVE 1983) 

20  ISOLAMENTO (CITTADELLA – PD): MY EUROPA (LIVE 1983) 

21  LYNX AVENUE (BASSANO DEL GRAPPA – VI): INSIDE MEMORIES (1984) 

22  PLASTICOST (MAROSTICA – VI): VOLGA DI PAGLIA (1985)
. CD 2
1  FRIGIDAIRE TANGO (BASSANO DEL GRAPPA – VI): DELIVER AGAIN (1985) 

2  ART DÉCO (MESTRE, VENEZIA): SECRET WILD LOVE (1985) 

3  I NIPOTI DEL FARAONE (PADOVA): LIZARD (1985) 

4  DEGADA SAF (CASTELFRANCO VENETO – TV): BELLOSGUARDO (1986) 

5  MORROWYELLOW (VERONA): WAKEFULNESS (EARLY VERSION, 1986) 

6  LUXURE (BASSANO DEL GRAPPA – VI): IT MAKES NO DIFFERENCE (1986) 

7  END OF CARNIVAL (ROVIGO): DECEMBER THINNEST FOG (1986) 

8  ART CORE (VENEZIA): PORCUPINE (1986) 

9  FRU AUT (BASSANO DEL GRAPPA – VI): L'AVVOLTOIO (1986) 

10  WAX DOLL (BIBIONE, S. MICHELE AL TAGLIAMENTO – VE): 
IL SOGNO DEL PRIGIONIERO (1986) 

11  WAX HEROES (TREVISO): WAKE ME UP WIZARD! (1986) 

12  SYBIL VANE (VENEZIA): PRINCE OF LOST CHANCES (1986) 

13  PLAGUE PAVILLON (VERONA): RED HEART SNAKES (1987) 

14  THE SHADOW OF A DOUBT (BIBIONE, S. MICHELE AL TAGLIAMENTO – VE): 
BLUE VISION (1987) 

15  SCENT MERCI (TREVISO): THE BRIGHT MOONLIGHT (1988) 

16  HELLVISPRAVO (VERONA): INIT 01 (WELCOME TO THE SONIC CRUSHER) (1989) 

17  INSIDE LONELINESS (TREVISO): DREAMING YOU'RE ALL MINE (1989) 

18  OPIUM CLUB (MESTRE, VENEZIA): I.C.E. (1989) 

19  MARGINAL NOTE (TREVISO): RAIN TELLS STORIES (1989)
20  ALEJAS (MESTRE, VENEZIA): LOSCOGATTO (1989)
Ancora disponibili i primi 5 volumi, tutti su doppio cd, di 391 dedicati alle scene di  Marche, Piemonte, Toscana, Umbria e Liguria.

Info: http://beta.goodfellas.it/italy/f/label/Spittle/